Border Air Quality and Meteorological Study (BAQS-Met)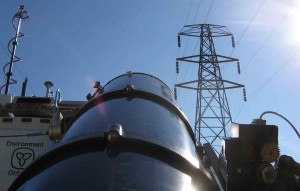 The Border Air Quality and Meteorological Study (BAQS-Met) is a major collaborative effort between university, federal and provincial government scientists to further understand the impacts of transboundary flow of pollutants, lake effects and gas/particle processes on the high levels of air pollutants that frequently and episodically occur in southwestern Ontario, particularly in the Windsor-Essex-Chatham-Kent (WECK) region. During an intensive field study; June 18-July 10, 2007, scientists converged on the WECK region, bringing millions of dollars worth of scientific equipment to collect data in the region.  The university initiative in this study was composed of atmospheric scientists from York University, University of Toronto, University of Western Ontario and University of Windsor.  The Centre for Atmospheric Chemistry led the university initiative in funding, planning and executing the first phase of the study; the data collection phase. The university involvement was supported by a grant from the Ontario Ministry of the Environment, and was welcomed by the federal government scientists in Environment Canada, who were responsible for leading the BAQS-Met study.
The second phase of the BAQS-Met study, the data analysis stage, is on going.  In the second phase, the data collected in the field study is being analyzed to meet the overall policy and science objectives of the study.  The study will involve scientific analysis of the data to look at spatial heterogeneity of atmospheric particulates and gases, chemical transformations of gases, gas to particle transformation process, sources of particle nucleation events, sources of ozone, particulate matter and their precursors,  long-range transport and transboundary flow of air pollution, three dimensional distributions of pollutants in the region, lake effects and other meteorological effects on air quality and severe weather formation and sources of pollution in Windsor.  The analysis will also be supported by air quality modeling efforts to answer scientific questions that cannot be addressed through observational approaches alone.   New methods for pollution measurement and data analysis will be developed in the study.
The scientific results of the analysis will be presented at international conferences and will meet scientific scrutiny through the publication of peer reviewed journal publications.  Ultimately, this will lead to a better understanding of the sources of air pollution that human populations are exposed to in southwestern Ontario and will aid in developing government policy for improving air quality.  The current director of CAC, Professor Robert McLaren, is the principal investigator of the university initiative for Phase I and Phase II of BAQS-Met and sits on the scientific management committee for the study.    Other members of CAC involved in the project include the research groups of Professor Geoff Harris, Professor Jochen Rudolph, Professor Mike Mozurkewich  as well as Professor Peter Taylor of the Dept. of Earth and Space Science and Engineering.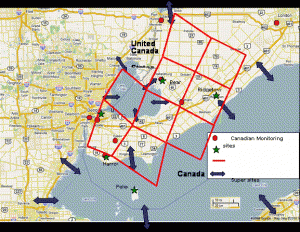 Saturna Island Study, 2005
Chemical processing of polluted air masses in marine areas is of interest in many areas of the globe.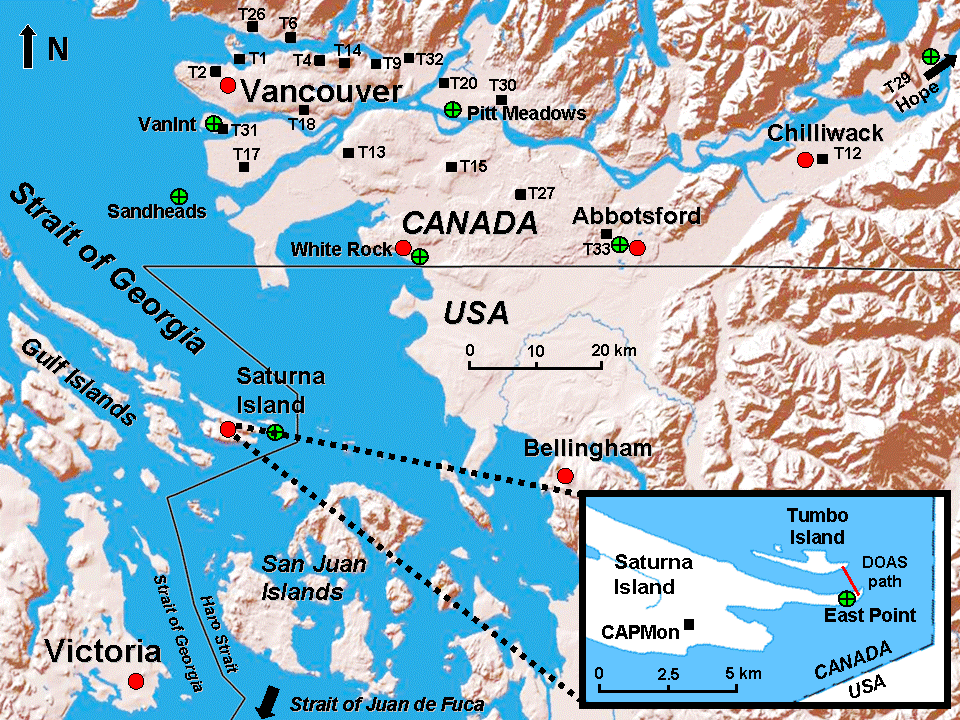 Water bodies can have complex effects on meteorology, and oceans are a source of halides that can be oxidized to halogen radicals, especially at night.  One such region in Canada where this potentially can be seen is on the west Coast close to Vancouver. It has been known or suspected for sometime that polluted air masses that stagnate in the Strait of Georgia close to the Georgia Islands (Canada) and San Juan Islands (USA) often recirculate into the Lower Fraser Valley during multiple day episodes giving rise to elevated PM2.5 and O3 levels.  During the summer of 2005, we conducted a small study on Saturna Island in the Strait of Georgia, in collaboration with researchers from Environment Canada.  The purpose of the study was to measure NOy pollution in the polluted strait to determine if pollution pools are indeed seen at night and to determine what role this circulation pattern and night time chemical processing may play in air pollution episodes in the LFV.  In particular, spectroscopic data measured by active and passive DOAS methods is being analyzed to determine NO3,  NO2 and other pollutant levels.  Analysis of this data set continues in collaboration with Environment Canada.
Photo-Gallery for Saturna Island Study, 2005
The Pacific 2001 Field study was an international campaign designed to study aerosol growth and properties in the Lower Fraser Valley.  The group was involved in NO3 measurements, particle phase carbonyl compounds, gas phase carbonyl compounds using automated gas phas carbonyl measurement systems.
PAC2001 Photo-Gallery.
The Southern Ontario Aerosol Study, (SONTAS)took place June 19-July 19, 2000, at two sites; an urban site in downtown Hamilton and a rural site near Simcoe about 70 km southwest of Hamilton close to Lake Erie.  Both sites coexisted with Ontario Ministry of the Environment monitoring stations where supplemental data was available. The purpose of the study was to learn more about the sources and formation mechanisms of atmospheric aerosols, small particles of either liquid or solid content suspended in air, ranging in diameter from a few nanometers to a few tens of micrometers. Atmospheric aerosols are known to have adverse human health effects, especially those particles of inhalable (
Read the writeup in the York Chemical Society Gazette.